1
Pipo X7 Windows 8.1 Smart Mini PC TV Box Media Player $97.99
Posted by pete_c , 20 February 2015 · 8651 views
Just a quickie synopsis of a mini pc ordered on January 18, 2015 and received on February 20, 2015.
It is called the Pipo X7 and it was on special for $97.99.  Will take some pictures and post here. 
It sold for $89.98 as a pre-order. 
PIPO X7 is a smart Streaming Media Player with Windows 8.1 OS. (Also called Internet TV BOX, set-top box, OTT box, etc.) Once connected this player to the HDMI interface of TV, it will converts the regular TV into a Smart TV which likes a PC. PIPO X7 is a great invention that combines TV box and Windows mini PC(Intel chip).
CPU: Intel 3736F quad core up to 1.83GHz
GPU: Intel HD Graphics (Intel® HD Graphics - GPU clock speed 313Mhz up to 646Mhz)
Audio I/O - HDMI, earphone jack, built-in stereo speakers and microphone
System Memory - 2GB DDR3L RAM
System storage - 32GB eMMC
Windows 8.1 with Bing OS, with office 365 Personal, one year subscription
WiFi and Bluetooth
10/100 Mbps NIC
HDMI - (with audio) up to 1080p
USB - 4x USB 2.0 host ports
Power Supply - 12V/2A
Weight - 403g
Verbiage above mentions an Intel 3736F which is on the website selling these.
Motherboard shows:
Intel Atom Z3735F is a power-efficient quad-core SoC for tablets. It is clocked at 1.33 - 1.83 GHz and is part of the Bay Trail-T platform.
The Intel Atom Z3736F is a power-efficient quad-core SoC for tablets. It is clocked at 1.33 - 2.16 GHz and part of the Bay Trail-T platform.
Review quotes: 
yes, same thing here, board marked as z3735f, however, when you check in windows, it report it is z3736f.
I just learned of the Zotac Zbox Pico which has (almost) exactly the same hardware, only difference is the use of the Intel Z3735F (Zotac) instead of Z3736F (Pipo) soc, but than for around € 200,-. But reviews are quite good, if you would use it as TV streaming box.
 
HDMI cable is included
 
Press Del button to enter BIOS
Concurrent to this purchase was a Kinect (s) purchase and earlier in 2014 purchased a thin openframe 16:9 17" dual touch capacitance screen for use relating to home automation.  Combining all three would allow for touch and Kinect interaction with the in wall wide screen capacitance screen.  (not sure on what I would have to do to the wall such that its currently just sitting on my hobby workbench).  
Box was padded a bit packed in a padded envelope.  The device container used plastic for its contents placements.  The Pipo X7, power supply and warranty card were in the box.  The wireless antenna is attached to the device.  I cannot remove the antenna.  The case is black and metal.  
Personally like the feel of the case and weight of the device.
Top, bottom, front and back views 
Take apart pictures.  Initially trying Linux with it and specifically XBMC to see how it does.  
It is a tiny Intel motherboard.
Chips 
More chip pictures to come ....I have used 16.39 Mb of my unlimited space which I do not understand.
- Samsung 32Gb MMC - R/W speed 240/60 MB/s
- Realtek WiFi Bluetooth 
BIOS screenshot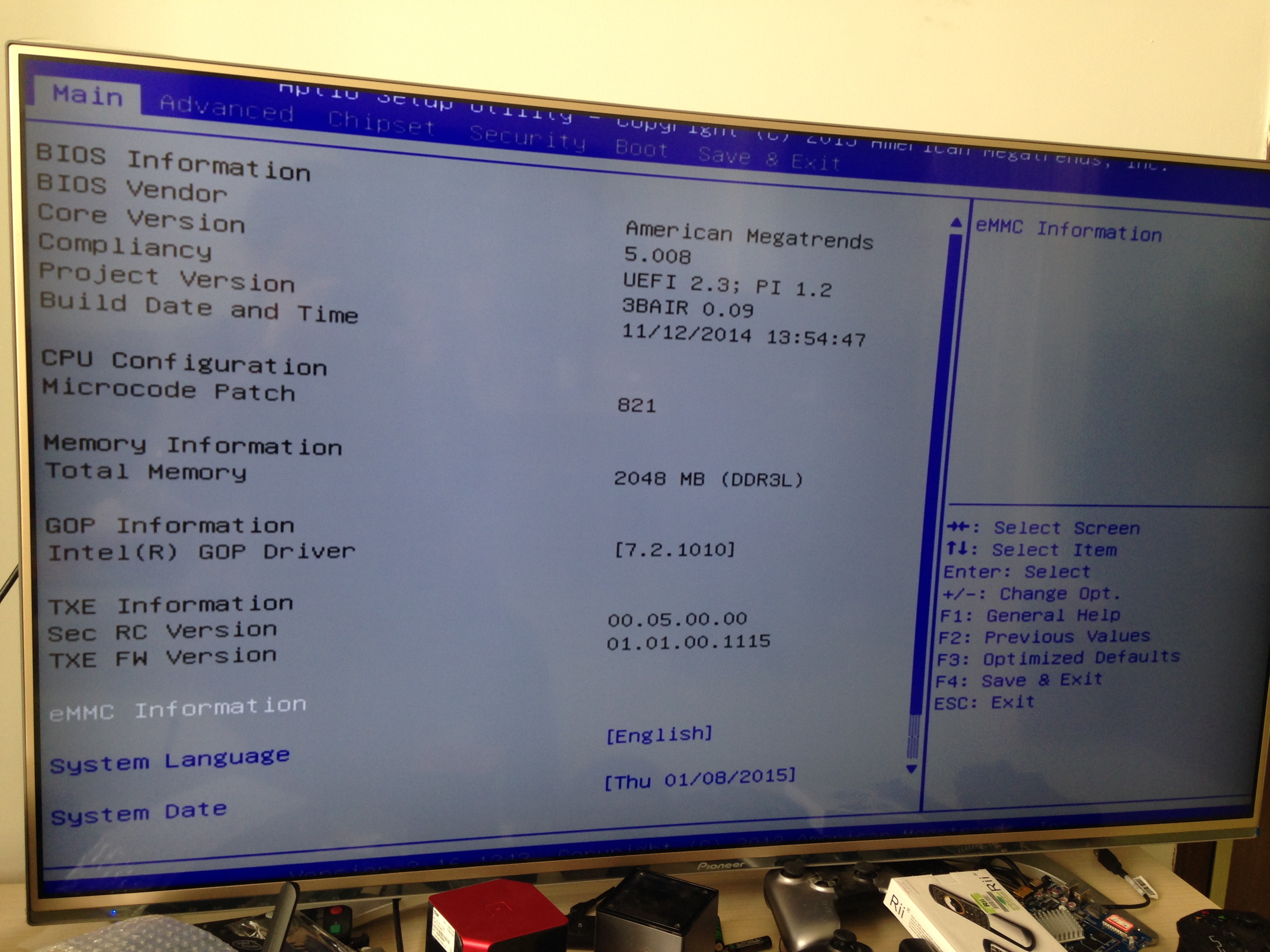 Thinking I can boot into Linux and copy MMC over to a USB stick or whatever.
21st of February, 2015
Booted device into Windows 8.1.  Navigation and applications run fine.  
Made up an EFI Ubuntu boot stick (well I already use these for the Jogglers).  Hitting the F7 key during boot will bring up the boot menu.  I see the stick fine.  That said there is also an option to boot into an EFI shell (which I play with) such that I can manually boot the USB stick. 
I was able to boot up using the Ubuntu 14.04 stick typing the command FS3:boot 
22nd of February, 2015
Booting to Ubuntu 14.04 LTS just fine.  It was all related to that EFI boot partition stuff that I have played with. 
Tinkering started the night before and went to the wee hours of around 3 AM or so....guessing I got a bit carried away with it.... 
Creation of a boot USB stick that boots on Pipo X7
Insert the USB into the USB HUB connected to device

Format the USB (quick format)

Run Rufus




Select ISO and select the downloaded Ubuntu ISO

Select "GPT partition scheme for UEFI computer"

Accept "FAT32"

Select "64 kilobytes" cluster size

Enter "LIVECD" as new volume label

Click "Start" then "OK" then "Close"

Download "bootia32.efi" from

https://drive.google.com/file/d/0B99O3A0dDe67QWUtek9rdHptMjA

Copy "bootia32.efi" to the USB (d:\EFI\BOOT)

Shutdown
Addendum to the above.  This mentioned methodology above will let me boot into three different OS's in a similiar fashion to what I am doing with the modded O2 Openpeak Intel Atom based touch table top tablets.  IE: one way is to split the 32Gb partition to three; one for Windows, Ubuntu and Android.  I do that today with a smaller PATA SSD on my Openpeak devices.  It appears that the Windows 8.1 is 32 bit while the Ubuntu OS is running in 64bit mode which doesn't make sense as I did add that bootia32.efi file to the main efi boot configuration partition on the Ubuntu USB boot stick.  The EFI boot stuff though is all just plain text and sort of similiar to basic DOS commands stuff.  The real difference here though between the Atom dual core tabletop tablet is that the mini pc only have 512Mb of RAM and 1Gb MMC built on the motherboard (except for my mods of adding a 16Gb SSD PATA drive.)  Well too I am not using the Openframe EFI kernel (BIOS) to boot to Windows on the tabletops.  Rather I am writing over the chipped BIOS with an '86 style BIOS (seabios).  This did allow me to create a windows 98, windows xp, windows 7 and 8 booting OS.  The BIOS flash chip on these is socketed such that I have also been able to hot swap the chip and write to memory new kernel while the device is on.  The mini PC bios/kernel chips though are all soldered on to the motherboard such that an error can brick the mini pc maybe? 
I have another touch screen tablet that uses the Wintel multiple OS booting partition manager and it is configured to boot into Wintel, Mac IOS, Android and Linux and works just fine today.  (its an amazing little device with wireless, bluetooth, ethernet nic and a sim card slot in it for all kinds of connectivity). 
25nd of March, 2015
Testing out a new Ubuntu 14.10 64 bit build for the device today.  It appears there is some BIOS playing going on with the device mostly to make it more multi-OS friendly. 
It runs faster than the 32bit Windows 8.1 build on it.  Running it on a USB 8Gb SSD stick.  Moving it to SD card slot to see how it does.  Updating / upgrading drivers. 
26nd of March, 2015
Original Davicom network drivers was on and off floppy.  I went to the mfg website where they offered the Linux drivers (make install stuff) built a new network driver and all is well.  Intel HD audio still appears to be not working.  In upgrading of Ubuntu 14.10 have filled up the 8Gb SSD USB stick.  Seems to be misreporting drive space right now and no CPU temperatures.  Notice too on Webmin attachment the CPU is clocking at 1.33Ghz and can go to around 2Ghz.  Working on that today. 
27nd of March, 2015
Reading about a new model Pipo called the PipoX7s.  This one comes with a dual booting on 32Gb Android 4.4/Windows 8.1.  With installation of Ubuntu 14.10 working it will be a triple booting device.  I have a few in wall touchscreens today using 4:3 capacitance 3M screens with Aopen dual core CPU PCs running whatever today.  The Aopen DE's are fast but consume much power.  Recently purchased dual touch capacitance for wall mounting screens.  The PipoX7 small footprint will allow the PC to be attached to the back of the monitor.   The most recent capacitance 16:9 openframe for inwall mounting touchscreen is very thin with a box like protrusion with makes for easy on wall / in wall mounting. 
28th of March, 2015
Got Ubuntu 14.10 64 bit build working with wireless/bluetooth/video drivers.  Audio HD is still an issue.
Testing using XBMC.  
32nd of March, 2015
Wondering today if anyone is reading this blog. 
Found an issue with the network card.  It appears to be going off on its own in Windows or Linux.  Somewhere in the mix it has to do with the HDMI port.  It seems when the HDMI monitor goes to sleep it also shuts off the network port.  Folks are mentioning that its a hardware issue?  The fix right now is to create a virtual second monitor.  
2nd of September, 2015
The Pipo X8 is now available for less than the PipoX7.  The Pipo 8 specifications base is the same as the Pipo X7.  The difference is that it includes a capacitance touch screen. 
blah blah blah blah blah blah blah blah blah blah blah blah blah blah blah blah blah blah blah blah blah blah blah blah blah blah blah blah blah blah blah blah blah blah blah blah blah blah blah blah blah blah blah blah blah blah blah blah blah blah blah blah blah blah blah blah blah blah blah blah blah blah blah blah blah blah blah blah blah blah blah blah blah blah blah blah blah blah blah blah blah blah blah blah blah blah blah blah blah blah blah blah blah blah blah blah